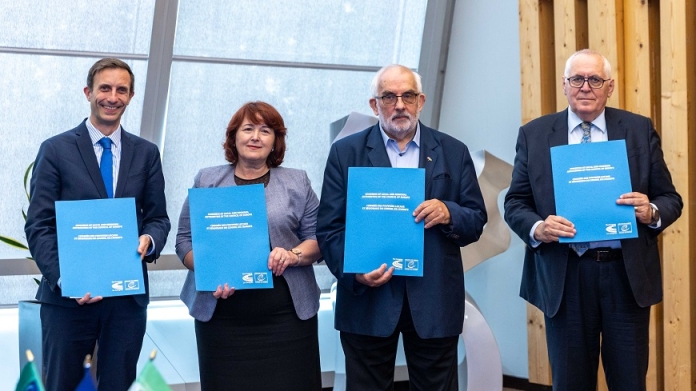 On the launch of the Congress project on migration management and the signature of a quadripartite Memorandum of Understanding between the Congress and the Association of Polish Cities, Congress of Local Authorities from Moldova, and the Association of Communes of Romania, Secretary General Mathieu Mori stressed "the essential role of national associations in promoting local democracy" and reiterated the Congress' commitment to accompany them in "the development of good practices and policies that contribute to strong, sustainable and inclusive communities".
On this occasion, Bernd Vöhringer, President of the Chamber of Local Authorities of the Congress presented the Congress' thematic works on migration. The Special Representative of the Secretary General on Migration and Refugees, Leyla Kayacik, stressed the importance of peer-to-peer learning in order to strengthen capacities and abilities of local authorities to address migration processes.
Congress members Eirini Dourou (Greece) and James Moloney (Ireland) shared their respective experiences on the reception and integration of migrants and refugees at local level with the Community of Practice, and a representative of Rennes Métropole presented the "European Citizens' Initiative for a dignified reception of migrants".
A Steering Committee and a Community of Practice on Migration and Human Rights at local level have been established. The Community of Practice gathers together representatives of local and regional authorities in Poland, the Republic of Moldova and Romania.* This platform for peer exchanges aims to identify issues faced by territorial authorities with regard to migration management and develop practical tools to address them.
This event was organised in the framework of the project "Strengthening resilience in local and regional authorities facing migration challenges", implemented by the Congress of Local and Regional Authorities within the Council of Europe Action Plan on Protecting Vulnerable Persons in the Context of Migration and Asylum in Europe, with the financial contribution of Germany.
* The Community of Practice gathers together representatives of Hrubieszow, Rzeszów and Wrocław (Poland), Edinet, Straseni and Vinogradovca (Republic of Moldova) as well as  Bogdan Vodă, Măgurele and Tulcea (Romania).
Additional information:
Memorandum of Understanding between the Congress, the Association of Polish Cities, the Congress of Local Authorities from Moldova, and the Association of Communes of Romania