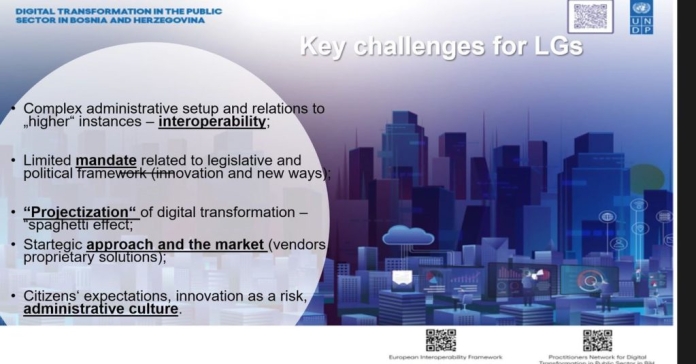 We are delighted to share the key highlights of the recent webinar titled "Empowering Local Governments: Digital Strategies and Solutions," organized in partnership with Open Regional Fund for South East Europe – Modernisation of Municipal Services (ORF), Deutsche Gesellschaft für Internationale Zusammenarbeit GmbH (GIZ) and United Nations Development Program (UNDP) offices in Bosnia. This engaging online event, held on 17 May 2023, aimed to discuss the progress made in implementing digital solutions in municipalities through Public Private Partnership and showcase the Roadmap for Digital Transformation prepared by UNDP Sarajevo.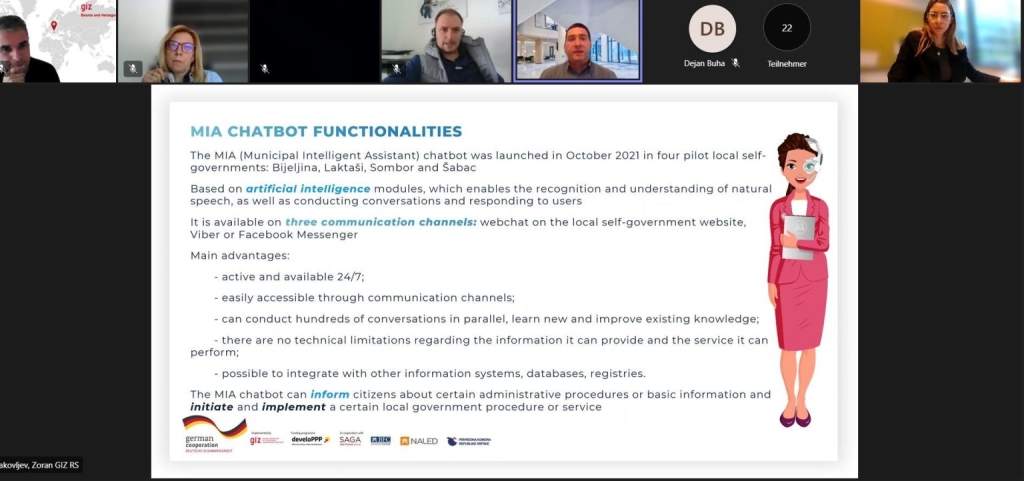 The webinar brought together a diverse group of participants, including representatives from cities in the Western Balkans and Southeast Europe, NALAS member associations, UNDP, ORF, KDZ, and private companies serving as solution providers. The session was moderated by Bojan Vojvodic from ORF GIZ Bosnia and Herzegovina and Jana Belcheva Andreevska, NALAS Digitalization and Smart City Officer.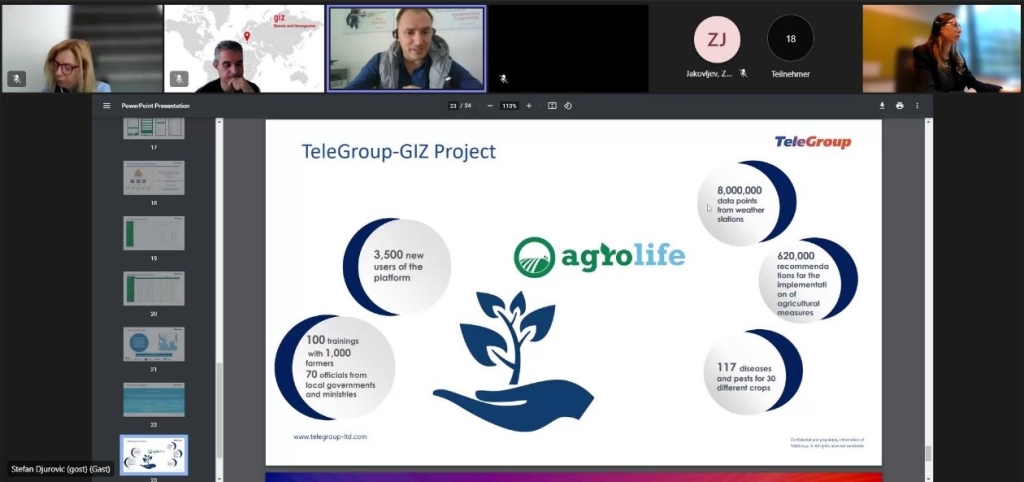 Throughout the webinar, several presentations showcased excellent digital initiatives. Mr. Dejan Buha from UNDP Sarajevo presented on the "Digital Transformation Road Map" project in Bosnia and Herzegovina. He emphasized the gradual acceleration of digital transformation in the country, while emphasizing the need to reimagine government structures to create the public sector of the future. Digital transformation does not only involve new technologies but also requires the reorganization of structures, work processes, skills, culture, and mindset. The Roadmap for Digital Transformation was tested and implemented in several municipalities, from assessment to investment planning.
Another important presentation was on the Chat Bot application developed by SAGA Belgrade, presented by Mr. Zoran Jakovljev from GIZ ORF MMS and Mr. Goran Vujaković from the municipality of Laktaši. This project is part of the Development Partnership between SAGA and the Network for a Business Friendly Environment in Southeast Europe (BFC SEE), supported by the develoPPP program implemented by GIZ on behalf of the German Federal Ministry for Economic Cooperation and Development (BMZ). The aim of the project is to enhance the accessibility and efficiency of municipal services in Serbia and Bosnia-Herzegovina through the introduction of a Chatbot platform. The MIA (Municipal Intelligent Assistant) chatbot, launched in October 2021, utilizes artificial intelligence modules to recognize and understand natural speech, conduct conversations, and respond to users. It is available on webchat, Viber, and Facebook Messenger, offering 24/7 availability and the ability to handle multiple conversations simultaneously. The chatbot can provide information on administrative procedures, basic information, and even initiate and implement certain local government procedures or services. Its integration capabilities with other systems, databases, and registries further enhance its functionality.
The webinar emphasized comprehensive solution named AgroLife, a digital platform for land management. AgroLife that it is Digital Platform for Land Management, AgroLIFE is among leading platforms in agriculture industry which provides automated field management for all user groups, along with precise monitoring of agriculture production. It includes: GIS platform for Digital maps management, IoT and sensors for data collection in real time, Meteostations data and provides data driven decisions and evidence based agriculture.
The benefits for users are twofold: Farmers gain efficient management of their farm production and improved transparency, while municipalities benefit from automated monitoring and management of publicly owned land. Additionally, municipalities receive real-time, custom-made reports that serve as a foundation for strategic decisions made by ministries.
Furthermore, the webinar showcased the Smart Parking solution developed by LANACO Banja Luka. This innovative platform, accompanied by the Go Parking mobile application, simplifies the daily traffic routine. With just a few clicks on a smartphone, users can effortlessly pay for parking and continue with their activities. The Go Parking mobile application supports payment through all three mobile operators and is available in over 25 cities throughout Bosnia and Herzegovina.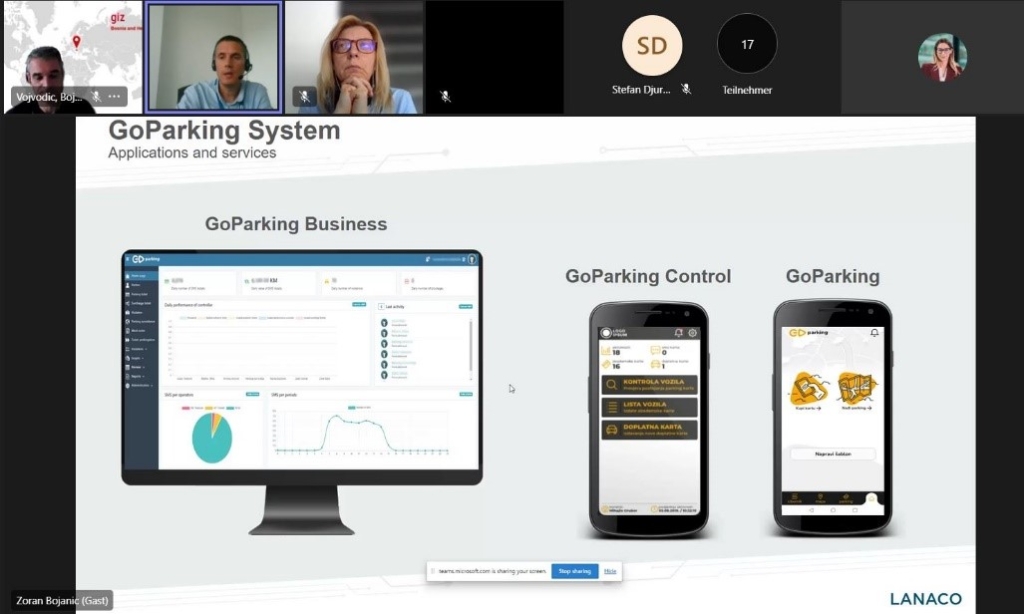 The session concluded with a productive Q&A session and the closing remarks included updates on the upcoming Western Balkans Digital Summit in Sarajevo and the ongoing surveys on digital skills and digital transformation at the local level.
We extend our heartfelt gratitude to all the participants, moderators, and partners for their valuable contributions, making this webinar a success. The event provided an opportunity for local governments to exchange knowledge and collaborate, empowering members of the NALAS digitalization working group. It emphasized the vital role of partnership in shaping digital strategies and implementing digital solutions.
Stay connected for future updates and collaboration opportunities as we continue our efforts to digitally empower local governments in Southeast Europe (SEE).